Endau Rompin National Park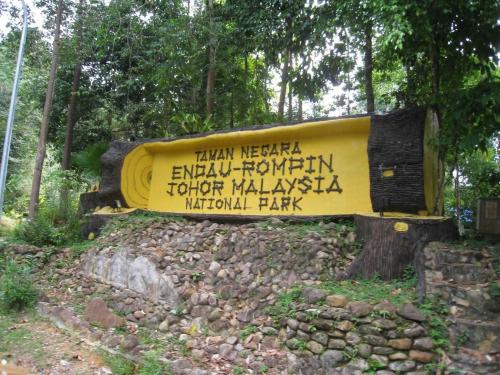 About Endau Rompin National Park situated near Segamat Johor:
Endau-Rompin National Park is the second designated national park in Peninsular Malaysia. And rightly so, as it contains the one of world's oldest rainforests and the volcanic rocks there date back 240 million years. Its name is derived from the two rivers through the park; the Endau river in the south in the state of Johor and the Rompin river in the state of Pahang in the north. It also has some unique flora and fauna, including the endangered Sumatran Rhino. It has some of Malaysia's best waterfalls namely Buaya Sangkut, Upeh Guling and Batu Hampar all within 2 hours trek of each other. Also you'll get a chance to meet the indigenous peoples of Peninsular Malaysia, known locally as Orang Asli. The major tribe that call the park home is the Jakun.
A proper trip to see all the major highlights of Endau-Rompin National Park should take 3 days. Of course it's not hard to spend a week to get lost amidst the breathtaking rivers and forests. Unless you're an experienced jungle trekker, it's best to stick to the packages offered ? the Johor National Parks Corporation organises the most reasonably priced ones.
How do I get there:
The Johor Endau Rompin West entrance is near the town of Bekok near Segamat. Here, due to the condition of the track, one can enter only by using 4WD vehicles. Transportation may be arranged.
Endau Rompin West Entry from Bekok (Johor)The 4WD: This is a unique experience and the only means of reaching the chalet base camp at Lubok Tapah and the camping ground at Lubok Merekek. It is better to hire a local operator to bring you in as during the wet seasons the route is very challenging and treacherous.
Not to be missed:
Entry from Bekok (30mins drive from Segamat Town Center)
Orang Asli (Aborigines) Village
Rubber tube rafting
Night safari and Night Trekking
4 x 4 off road adventure
Three beautiful waterfalls
Adventure Team Building
Water Abseiling
Jungle Survival Training
Hill Climbing at Gunong Tiong
Please take note that the rubber tube rafting, night safari & night trekking, 4 x 4 off road adventure, the three beautiful waterfalls namely Takah Tinggi, Takah Pandan and Takah Berangin , adventure team building, water abseiling and jungle survival training are referring to activities available at Endau Rompin Selai / Endau Rompin West (the entry point is from the town of Bekok) in West Johor.